"Come in! Come in! Let's get you all warmed up!"
"Live performances downstairs! Please watch your steps!"
It was minus seven degrees outside.
The nun at the door could no longer feel her nose. Yet she continued to guide guests into the Hall with the same enthusiasm. Amongst the bustling crowd, an elderly man suddenly stopped in his tracks.
"Thank you for braving the cold for us."
Like a gentle ray of sunshine that chased away the cold, his words came as a pleasant surprise. Though simple, it couldn't have been more sincere.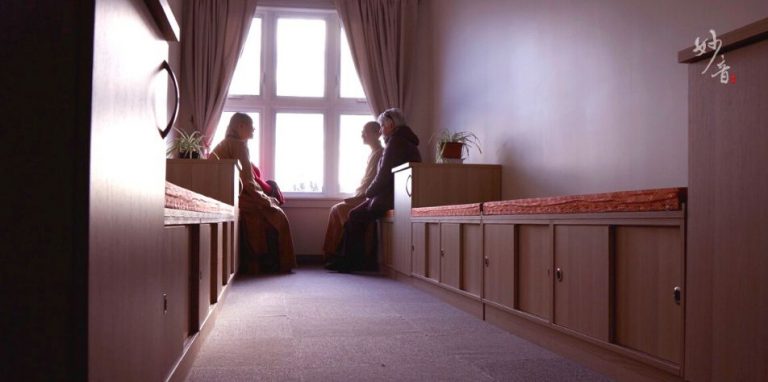 "Really? Even the dorm rooms too?"
"That's wonderful!"
The crowd that came out to South Lotus Hall's Open House that evening were mostly seniors from the local community. When they found out that the dorm rooms on the second floor were part of the tour too, they were beyond elated. With exhibitions that spanned across three different floors, going through the entire Hall wasn't an easy task for many. But watching them carefully make their way up the staircase, we soon realized that they only had one thing in mind: to make sure we were well.
"Do you have enough clothes?" "And what about your bedding?" "Did they keep you warm at night? And away from the cold?"
Even if it means going up the stairs with a cane in hand or with the help of their family members, they had to see it for themselves just to be safe. As come-from-aways who'd left our hometown behind, they cared for us as they would their own child.
"How've you guys been doing?" "Is there anything I could do to help?"
This is how Linda, one of our neighbours greeted us every day.
That day, she also come out to celebrate our big day with us. A multi-talented artist herself, Linda has been looking forward to the live performances since long. Yet the posters on the wall, filled with our deepest gratitude for her, stopped her in her tracks. They depicted the story of how she'd taught us how to make apple pie when we first arrived on the Island.
"I know what my first priority is now!" were her only words as she continued to study the posters with light in her eyes.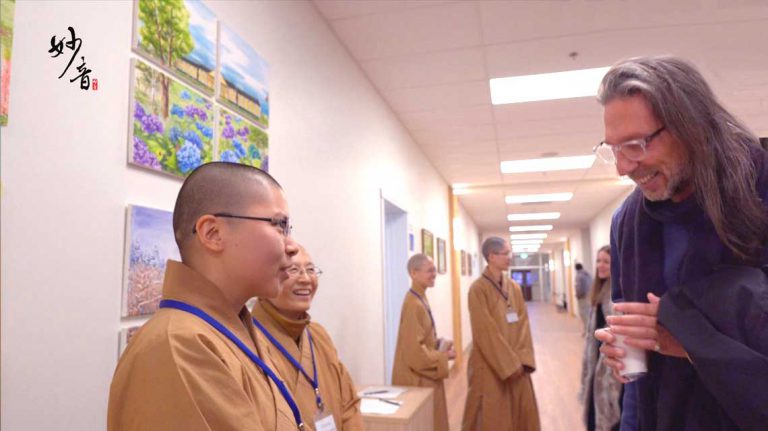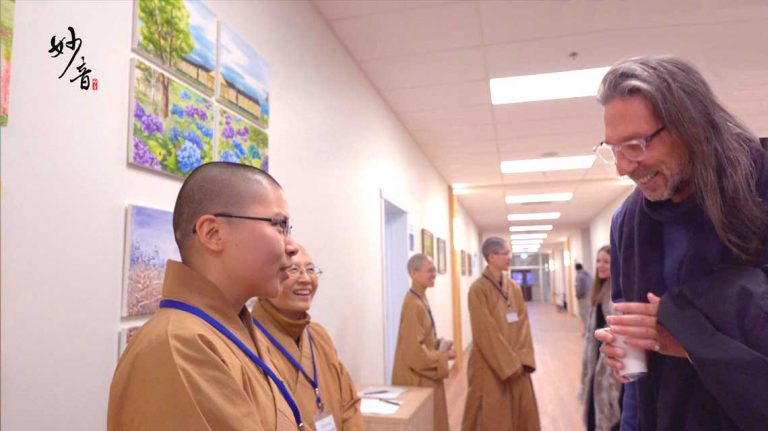 Amongst the crowd of open-house participants, a tall figure leaned quietly against the corner of the wall.
He'd sometimes chat with the young man beside him; other times he'd study the handmade cookies on the refreshment table with much interest. After a short conversation, we soon learnt that he'd driven more than three hours from the neighbouring province of New Brunswick, just to catch a glimpse of our very first monastery building – the South Lotus Hall.
When asked what he'd found most memorable of today's event, the first thing that came to mind were the films that depicted the nuns' studies.
"Very very touching. And especially for me, the last one. I don't remember her name. She had trouble with her classmates. And she always want to help. That kind of touched me a bit more because I could feel that in me also. A while ago, I was doing the same thing."
"I love it. It's a very beautiful place. I think you guys are going to do good stuff here. It's beautiful! I hope I'll be back. I'll try to bring more people."
The smile across his face couldn't have been brighter.
Before leaving, he quietly took out maple candies from his pocket and carefully handed it to the nuns beside him.
"I'm happy for you guys. I know I'm too old to become a monk now. I wanted to become a monk, but next life. I'll be born somewhere around here. You teach me, okay? You'll be my teacher." South Lotus Hall's open house not only made way to new friendships but also started a ripple of kindness.